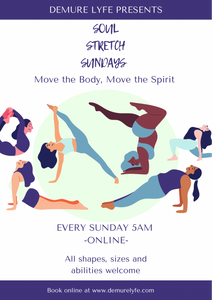 Soul Stretch Sundays
The Power of Self Actualization through intentional movement. 
Every Sunday 5AM EST join me on stretching your body and spirit:  Planning your week ahead, and utilizing the time and vibration of moment.
Sundays are ruled by the Sun, which represents the Self, and the number 5 represents change. If you're looking to shift your experience, join me weekly. 

This is a donation offering, so please select the amount you'd like to offer from this page.  Once you do you will receive access to my personal zoom link to join!

-
This personal financial experience tier chart is here to demonstrate how to review your finances before offering a donation. 


I'm so grateful for all support to keep the lights on and continue to light a path for Demure Lyfe Storefront in Chester NY. 


---
We Also Recommend